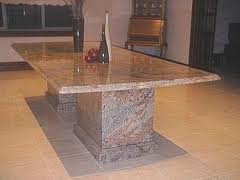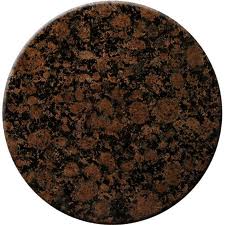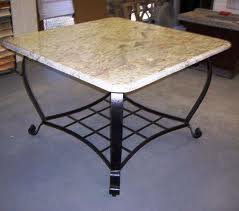 Granite Table Tops
Homes with stone topped furniture exhibit a luxurious quality that anyone will easily notice. That's the reason why stone topped tables are a common fixture in upscale homes.
If you want your house to get that deluxe appeal, granite table tops should be on top of your list. The beauty and quality of granite will bring out the best in your table. With the appropriate design, granite stone can easily fit into whatever type of house you have, whether it is a classic or a modern house.
A stone topped table can be elegant and traditional, or modern and avant-garde. Either way, it is sure to attract the interest of your guests. This is true, especially if your table is topped with granite. Granite carries that classy and cool appearance that distinguishes it from other stones. It is rather expensive that's why only those who have enough money can have high quality granite in their home.
Granite table tops is a sure way of adding luxury to your room décor. You can find granite of varying colors like white, green, red and black and all the different shades in between. They have beautiful patterns alongside these various colors which makes one stone distinct from another. Its natural hardness complements the stone's exceptional qualities. All these superior features make granite one of the most expensive building materials nowadays.
This stone is very strong and could be used as tabletops not only indoors but outdoors as well. It has a non-porous surface so you can use it in your garden and not worry about it being damaged. However, experts recommend that you seal its surface first before you use it outdoors. This will protect the stone's surface from being destroyed because of accidental scratches.
Table tops made of granite are quite heavy therefore the frame of the table must be strong enough to carry its weight. To satisfy this requirement, metal manufacturers have come up with metal legs with various designs. Table frames with artistically designed metal legs specifically targeted for granite table tops are now available in the market. There are different shapes of metal legs that you can choose from, like tapered, round and square legs. You can also specify the kind of metal finish that you want, such as polished or chromed finish.
If you have a particular liking for wood, that can also be arranged with the manufacturer. A strong wooden frame fitted with exquisitely designed wooden legs will add elegance to your already beautiful table top. This option is ideal for indoor table tops of homes with a traditional and conventional design.
A granite table top only needs minimum care for you to enjoy it for as long as you wish. If a stone cleaner is not available, you can use mild soap with clean water. Avoid using furniture cleaners or vinegar because they may contain acids that can destroy the stone's surface. You also have to seal it preferably once a year if you will use the table for eating and drinking.