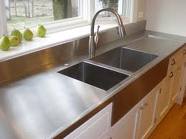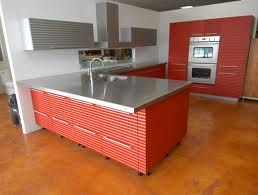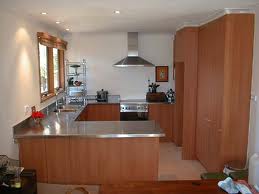 Stainless Steel Countertops
If you want to build a new home, or if you're looking for ways to bring class and style to your old kitchen, then stainless steel countertops can fulfill your need. Kitchen countertops made of stainless steel will bring the feeling and atmosphere of a professional restaurant kitchen right into your own home. It is truly cool to prepare and cook your favorite delicacies in this classy kitchen countertop. The special setting will surely bring the chef in you.
The stainless steel used for kitchen countertops have different grades. It is wiser to choose a kitchen countertop made of number 304 stainless steel. This grade of stainless steel has more resistance to stain and blemishes and has higher nickel content. As always, elegance comes at a high cost. If you want to build this type of kitchen countertop, you need to dish out around $85 - $200 per square foot. But definitely, it's still worth the price as stainless steel countertops do not only bring luxury and elegance but also convenience and practicality.
If you are regular cooker, this kitchen countertop will give you no worries. You can put your hot pans and pots in the stainless steel without scarring or burning the surface. It does make a slight sound when it touches heat, but don't worry because there will be no damage at all. Stainless steel is completely nonporous making it resistive of dirt and contaminants. Bacteria and germs do not easily lodge at the surface because of this property. You can enhance hygiene by using this kitchen countertop.
Stainless steel is also very easy to clean making it more practical than other kitchen countertop materials. Just use a damp soft cloth or soapy water to clean up the surface. For fluids that stick to the surface, you can use hot water to wash them out. Just make sure to use nonabrasive materials when cleaning because stainless steel can scratch easily. As the name suggests, stainless steel is resistant to stain to some extent.
As long as you don't use acidic household cleaning products like bleach, the steel will remain stain free. You also have to be cautious not to let acidic substances come in contact with the surface. Stainless steel is also pretty strong and durable. This material can last for a long time as long as you properly maintain it.
Shiny stainless steel countertops will not only make your kitchen look elegant, but it will also make your kitchen appear larger. In addition, the neutral color of stainless steel allows it to combine and blend with other colors of your kitchen more easily.
On the other hand, this type of kitchen countertop can be easily dented and can also be noisy. It can also dull knives if you're not careful. Fingerprints and water spots also have a tendency to stick to its surface. This means that you have to clean it frequently especially if you have kids that are clumsy and careless. But definitely, using stainless steel for your kitchen countertop will make your cooking more pleasant and enjoyable.