Wood Countertops
The Beauty and Durability of Wood Countertops
The best countertops for traditional homes are those made of natural materials. Wood is the top choice for this purpose because of its natural beauty and strength.
The classic and earthly brown color of wood countertops will impart a rustic ambience to the house where they are installed. Kitchen countertops made of hardwood are among the strongest countertops that can be made. When they are properly constructed, they can rival hard stones in durability and strength. You can also capitalize on the beautiful wood grains by making decorative wood countertops. A decorative wood countertop is really a sight to behold, especially if it has a very shiny finish.
Types of Wood Countertops
Basically, there are only two types of countertops: hardwood countertops and softwood countertops. Wood countertops for kitchen and similar heavy duty applications are made of hardwoods. The species of wood used for this purpose are Oak, Maple and Cherry. Softwoods are used for building decorative countertops. You won't need as much strength with decorative countertops, but you need to display the beautiful wood grains in their surfaces. For this purpose, softwoods with beautiful grains are used. These are the likes of Birch and Teak.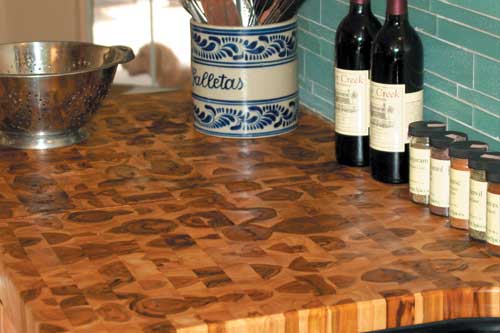 How They Are Made
A wood countertop is built by assembling wood segments or strips and then gluing them together. Strong commercial adhesives are used to make a strong bond between the wood strips. After the initial structure has cured, it is then cut into the desired size and shape. The wood countertop is then sanded and buffed to obtain a smooth surface. It is then sealed and laminated to give it a shiny finish and to protect it from the elements. However, there are a number of distinct differences in making hardwood countertops with that of softwood countertops. Below are some of their differences.
A) Hardwood Countertops
Wood countertops that will be used as kitchen countertops are made using the end-grain method. The wood segments or strips are oriented with the cut end of the board upward. As a result, the countertop surface will be an assortment of small rectangular forms. These small rectangles are really the cut end of the wood strips. This surface is the strongest of all method and you can use them in chopping and cutting food stuffs.
Another method of making hardwood countertops is the edge or stain-grain method where the wood strips are oriented on their sides. The countertop surface will also have rectangular shapes but this time they will be thinner rectangles because they are actually the thin sides of the wood strips. Wood countertops made this way are not as strong as the end-grain method but they can also be used for kitchen applications.
B) Softwood Countertops
Decorative wood countertops are made in a different way. The wood strips or segments are oriented on their face. This is called the face or plank grain method. All the wood strips are glued together with the width of the wood planks forming the countertop surface. Many wood countertops are built this way because they show the beautiful grains of the wood. They have the least strength of all wood countertops therefore they are only used for decoration.
Advantages of Wood Countertops
Using wood for your countertops will give you a lot of advantages.
• They have natural beauty and warmth.
• They are easy to work with compared with hard stones.
• They are safer to use for the kitchen because they contain less chemicals than other countertop materials.
• They are more affordable than hard stone countertops.
• They are also strong.
• They can be easily repaired when scratched.
• They age beautifully.
Disadvantages of Wood Countertops
There are also some downsides to using wood countertops.
• You need to refinish its surface periodically if you want to keep its luster.
• Water can ruin the surface if you let it remain more than it should.
• It is easier scratched and dented than stone countertops.
• Acids and vinegars allowed to linger on the surface will destroy the adhesive that bonds the wood strips together.
Care And Maintenance
Proper daily care and regular maintenance will extend the service lives of your wood countertops. Be careful in dropping heavy object in its surface because it may cause dents. Even if your countertop is made of hardwood, it is better to use a chopping or cutting board in cutting food items so as not to ruin its finish. In cleaning the countertop surface, avoid using wood cleaners that contain acids and harsh chemicals. They will degrade the lamination of the wood surface.